City Hall Gallery Program
Located inside City Hall at 635 South Highway 101, this is an intimate gallery that hosts a new artist's exhibition each month. The shows have included everything from watercolors and photographs to recycled metal sculpture, children's art, and painted surfboards. The City Hall Gallery is open to the public during regular business hours, as well as during special events and receptions to view the art and meet the artists.
For more information about the City Hall Gallery Program or to schedule an exhibit, please contact Kayla Moshki at (858) 720-2438 or kmoshki@cosb.org.

City Hall Gallery Call to Artists 2024
Attention artists! The City of Solana Beach and the Public Arts Commission invite you to submit proposals for the 2024 City Hall Gallery exhibitions. Here's your opportunity to make a lasting impression on the vibrant Solana Beach art scene! Deadline to apply is Tuesday, October 31st.
Current City Hall Gallery Exhibit:
WILD LEGACIES by Betty Byrd
Join us for an unforgettable evening of art and conservation at Solana Beach's newest City Hall Gallery Exhibition, featuring "WILD LEGACIES" by renowned wildlife photographer and award-winning novelist, Betty Byrd. Immerse yourself in Betty's captivating photographs that celebrate the beauty and soulfulness of our planet's most vulnerable and endangered animals.
Special Reception Highlights
Thank you to everyone who joined us on September 30th for the unforgettable "Wild Legacies" special reception at Solana Beach City Hall Gallery. Betty Byrd's photos sparked important conversations about wildlife conservation, giving a voice to those without one. The Solana Beach Public Arts Commission greatly appreciates the amazing community that made this event a successful night of art and conservation. For those who couldn't attend, here are some highlights from last Saturday's event to enjoy.
A portion of the proceeds from this exhibition will support vital organizations like The Sheldrick Trust Elephant Orphanage, the California Wolf Center, San Diego Audubon Society, and the International Fund for Animal Welfare.
Artist Statement
Betty Byrd is an American award-winning novelist & wildlife photographer whose 10-year birthday gift of a camera led her into photography. Now her photos hang in several collections throughout the country. Her work captures what's singular and soulful about the animals around her. Distressed by the accelerating pace of extinctions worldwide, Betty is on a mission to honor the delicate & massive, ferocious or timid, exotic or approachable so that these animals come alive and we remember that it's up to us to make sure they stay that way. The tight, intimate portraits of the vulnerable, threatened and endangered animals are designed to inspire and to give a voice to the voiceless. Betty's photos also draw people into the beauty and fragility of the natural world, to be less afraid of the wild and what it represents. She believes that we cannot take away "WILDNESS." For in that space we can sympathize with the animal & it's requirements, it's needs. The way she sees a scene, or the way she chooses to interpret that scene opens up many avenues of creativity so that she can explore them all. Above all, she has patience to wait for the right subject to come along…
"If you talk to the animals They will talk to you And you will know each other. If you do not talk to them, You will not know them And what you do not know You will fear And what one fears One destroys." - Chief Dan George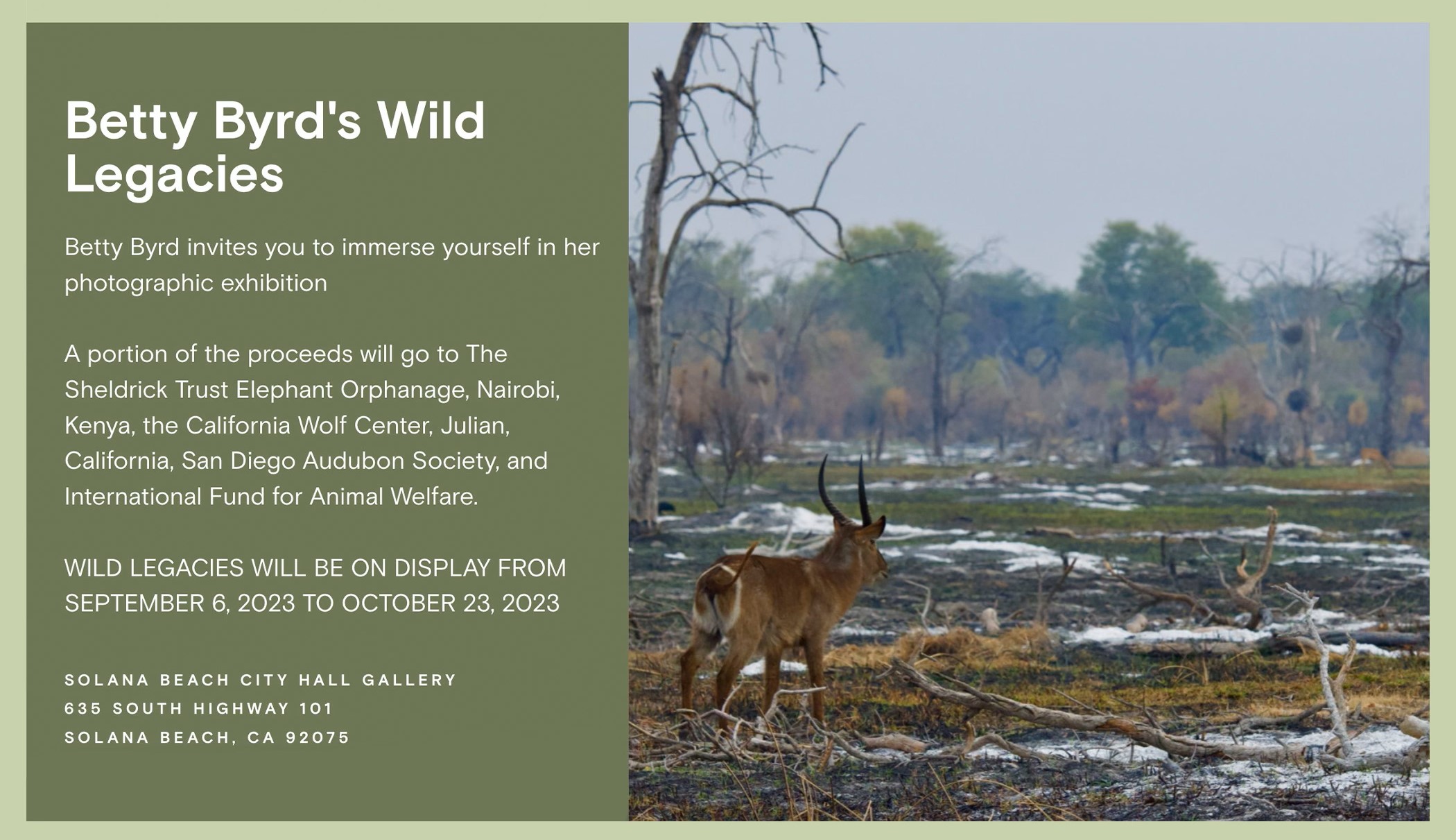 Previous Art Exhibits
Del Martian by Judy Burks: July-August