Youth Ride Free With PRONTO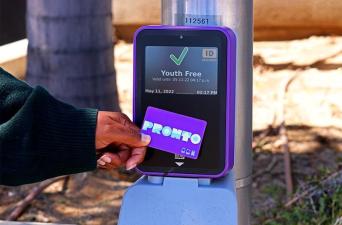 Youth riders get ready to ride for FREE! Anyone aged 18 and under can now ride transit for free as part of the San Diego Association of Governments (SANDAG) Youth Opportunity Pass pilot program. Youth riders can use a YYouth PRONTO app account or card on all San Diego's Metropolitan Transit System (MTS) and North County Transit District (NCTD) services for FREE through June 30, 2023.
Anyone aged 18 and under can now ride transit for free as part of the SANDAG Youth Opportunity Pass pilot program. Get your to get unlimited rides on the bus, Trolley, COASTER, and SPRINTER through June 30, 2023.
What is the Youth Opportunity Pass?
SANDAG has teamed up with MTS, NCTD, and the County of San Diego to connect youth to opportunity by providing free transit to anyone aged 18 and under. The Youth Opportunity Pass is funded by SANDAG as part of its Transit Equity Pilot, a program to make transit accessible for everyone.
Transit is perfect for youth riders who need:
A reliable way to get to school, practice, entertainment, and more

A fast and free ride to work or an internship

A safe ride to go to meet friends, get connected, and explore our beautiful region
How to Ride Free: As Easy as 1, 2, 3
1. Get PRONTO

Already have a Youth PRONTO card or app on your phone? All rides will automatically be free until June 30, 2023! If you're new to PRONTO, you can:

Download the PRONTO app and register for an account on your smartphone.

OR

If you don't have a smartphone, you can pick up a free PRONTO card from the MTS Transit Store or NCTD Customer Service Centers, or purchase a card at transit center ticket machines or any retail location they are sold.

Once you have your PRONTO account or card, fill out this online form to convert your account from Adult to Youth. Your youth account will be active within one business day.

Important: Make sure your PRONTO account is set to youth! This is critical to ensure your rides are free.

2. Get Ready

Use the PRONTO app on your phone for Trip Planner and Next Departure tools for real-time information. Or visit MTS and NCTD to build your route and find the closest transit station.

3. Get Ready

It's time to go! Here are some helpful riding tips to make you a transit pro:

Plan to arrive at the transit station or stop a few minutes before the time listed on the schedule. Remember you must tap your card or scan your app every time you ride. You must be able to show proof of eligibility while riding. Please have your current year school picture ID card; a valid government-issued photo ID with birthdate (i.e. driver's license or real ID); or birth certificate. A paper or digital copy of these documents is also acceptable.
For more helpful tips and resources, please visit the Youth Opportunity Pass website.