MTS and NCTD Free Ride Day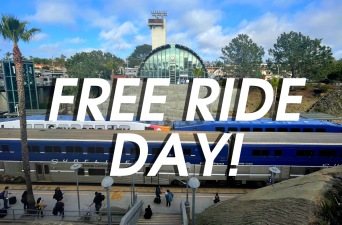 Get a free lift on Wednesday, October 5th! Trolleys, COASTER, SPRINTER, and fixed-route buses will be totally free to ride. Free Ride Day is being held in conjunction with California's Clean Air Day, where residents across the state of California will take steps to reduce emissions and improve air quality.
Taking transit in lieu of driving can provide many benefits, including:
Cost savings: With gas prices still hovering around $5 in San Diego County, riders are invited to try the commute cost calculator to see how much they can save by choosing transit.
Avoid special event traffic and parking costs: The Padres will play their final home game on Free Ride Day. Fans can take the COASTER or Trolley to get to Petco Park.
Reduce air pollution: People who will participate in Free Ride Day are encouraged to take the clean air pledge and demonstrate the collective commitment to cleaner air.
To learn more about Free Ride Day, please check out MTS's website.