City of Kindness Spotlight - SeaWeeders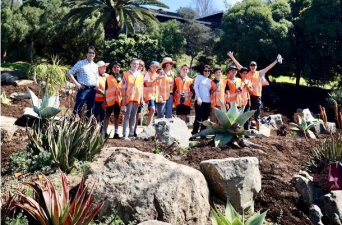 Starting this week, the City will feature a monthly City of Kindness Spotlight to recognize acts of kindness within our community. This spotlight will feature stories of kindness and community engagement from local residents, organizations, public servants, first responders, teachers, students and more!
Do you know someone that deserves a spotlight for their kindness in Solana Beach? Community members are welcome and encouraged to submit nominations for the City of Kindness Spotlight. To submit a nomination, please visit our City of Kindness webpage.

SeaWeeders: Solana Beach Garden Club
Our inaugural City of Kindness Spotlight features the SeaWeeders – an organization whose public garden projects are prominent around town. The SeaWeeders is a club for gardening enthusiasts whose goal is to promote sustainable beautification around our city. They have done so much to sustain kindness in our city, from participating in local city events, to spreading awareness of and installing plants to support monarch butterflies, to organizing teams of gardeners to add to the beauty of our community. The organization has been around for more than 20 years and is credited with many of the loveliest spots in Solana Beach, including helping with the gardens at the Solana Beach Eastern Gateway, Fire Station, Post Office, Coastal Rail Trail, San Elijo Lagoon, and the El Viento Pocket Park.
Kathleen Drummond, the current president, has been a Solana Beach resident since 1995 and has been a member of the SeaWeeders for six years. She spoke about the SeaWeeders' pledge program for the Monarch butterflies and the garden of pollinator plants at La Colonia Park. The SeaWeeders and the organizers of last year's Dia Del Las Muertos celebration teamed up to celebrate the Monarch butterflies with the theme centered on the legend that when the monarch returned to Mexico, it represented the spirits.
Cindi Clemons has been a Solana Beach resident for 36 years and a member of the SeaWeeders for six years. She elaborated on how the important work that the SeaWeeders are doing for the Monarch butterflies. Through their work, Solana Beach is setting an example for other communities, not only through the pollinator garden, but also through articles and efforts raising awareness and offering solutions to help the plight of the Monarchs.
For more information on the SeaWeeders and their projects go to seaweedersgardenclub.org.
Article by Halle Devine, City of Solana Beach High School Student Intern